︎ EZPZ, 2023
EZPZ (
link
) is an
iOS app
where the act of doodling makes tiny animations and sounds. Backed by sophisticated effects and sequencing, simple gestures with the flick of a finger come together to make techno melodies and beats. Choose from 15 generative brushes accompanied by hifi samples imagined, selected, and engineered by the acclaimed music producer
Cari Lekebusch
. These vibrant and reactive sounds are literally at your fingertips. With EZPZ music making has never been more fun. Let your fingers doodle to relax, play, or make your next masterpiece. EZPZ puts a unique synesthetic experience in your pocket.
EZPZ, Web Preview, 2023
Stockholm, Sweden • 15 Generative Brushes • Body • Soul • Minds • Vessels • Space • Warp • Shell • Eyes • Ghost • Arise • Fallen • Planes • Cloud • Rays • Shade
This app is powered by a custom audio-visual engine developed at
Chroma Studios
. The team, composed of members in Stockholm, Helsinki, and Los Angeles, have been quietly working since 2021 to harness technology in order to redefine audio entertainment. For more on them and their other apps follow Chroma on
Instagram
.
To commemorate the launch I minted 5 NFTs which you can view or collect on Foundation.
See the collection
. The app is free to download, use, and publish your own derivative works.
---
︎ Curaturae, 2022
Curaturae (
link
) is a website to help generate ideas by connecting your writing to over three million objects from the Smithsonian's Open Access collection. Write in up to ten different languages (including Japanese, French, and Russian) and wait for the application to respond with images in near real-time. The resulting collage of images is displayed at scale, as if hung in a real museum gallery. Click on a highlighted word to reveal the matching image. Tap on the image to learn more about it. After exploring these matches, save your findings as a PDF. Whether writing in poetry, prose, or text messages, Curaturae brings the spirit of the museum to you, at home on your computer or at the bus stop on your smartphone.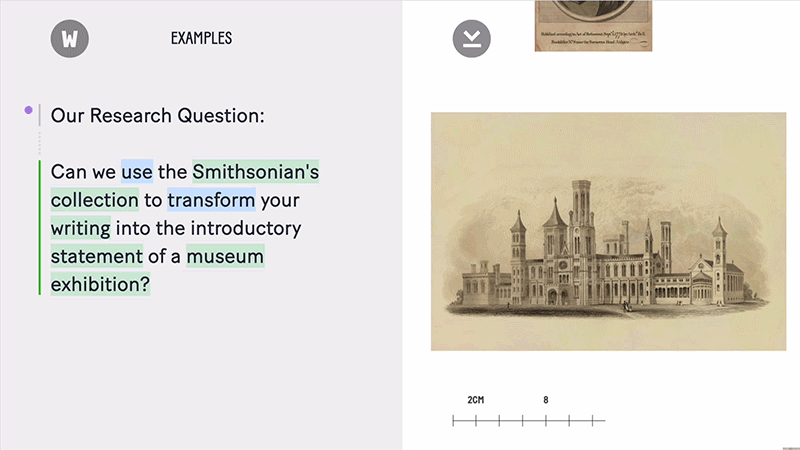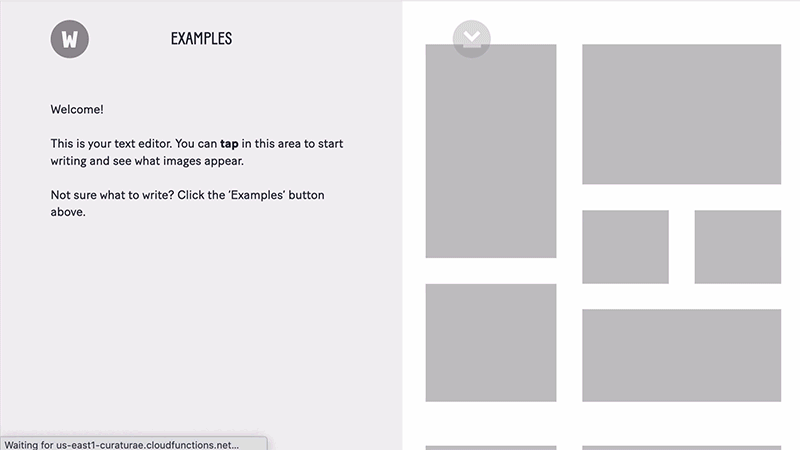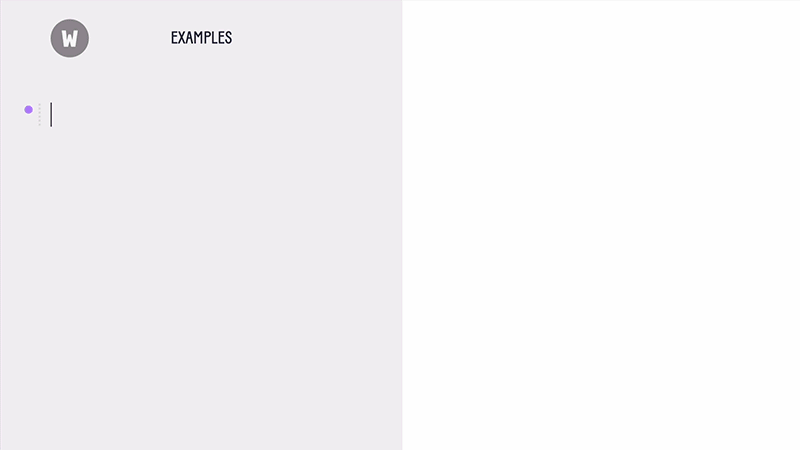 Examples of Curaturae's unique design features.
Curaturae ties state of the art language syntax and translation technologies to recently digitized, opened, and searchable art objects in a unique user interface inspired by the experience of visiting a museum. Writers of all ages and experience levels have a new tool to not only explore and learn about art, but a tool to work through writer's block and grant a new perspective on their writing.
Curaturae, interactive website, 2021
This project's effort was realized through the
Activating Smithsonian's Open Access
grant from Cooper Hewitt Design Museum and Verizon 5G Labs. Research for this project was conducted at NEW INC, the New Museum's art, design, and technology incubator, on their Cultural Futures track with support from the Knight Foundation.
The Life of a Keyword, 2022
After its reception, it became clear that the project is a lightning rod for questions surrounding different types of bias: curatorial, technological, and creative biases. So, I created a case study to explain, "
How writing with Open Access works
". On the page, I walk through the journey of how writing transforms into imagery. For each step along the way, I take time to answer questions that might arise. To the right are a set of animations I created to help explain this process. Because I rely on institutional information and technological features, the page has additional questions associated with more information to learn more or to reach the team behind a specific feature.
---
︎ Waiting for Stakes, 2021
2021 is the year of the Ox, but apparently it is also the year that cryptoart makes its mainstream debut. During this frenzy, discussion of cryptoart primarily concerns non-fungible tokens (NFT). In describing this technology, many attribute provenance as the primary benefit of NFTs.1 In short, it is the idea that any party can dispute and prove that the characteristics of one piece of digital media predates another of the same contents. It also describes who its true author is. While this is certainly a compelling and novel benefit bestowed to digital media, the idea of provenance stems from a more basic advantage that catches my attention as an artist trying to understand the NFT: permanence.
Since I started using computers, there continues to be an unspoken agreement. Digital media is ephemeral. Drag it to the trashcan and it disappears. Go to a website after a few years, it likely does not exist anymore. Large communities, like myspace for instance, disappear, sometimes reboot, but never stay the way they are. Why buy into a system like this? Because this is the trade off for having something at your fingertips, replicated and reduplicated, on multiple devices, in multiple servers all around the world. I believed it to be a decent deal. I moved away from digital illustration, a passion I had as a teenager, into graphic design and computer programming, because they do not rely on a single output like an image. They are systems that generate many outputs, moving images, and responses to interactions to name a few. My methodologies reinforce the idea that digital media is ephemeral. So, to learn that digital media can be permanent is incredibly disruptive to my worldview. It is also attractive. On top of this, like a plot twist in a drama, the trade off for permanence with NFTs is scarcity. For a digital artist, this turns their world upside down.

In this new world, I'm searching for my footing. As with many artists, my way of understanding is through the process of making. At this early stage, I have few takeaways. What I do have is an intention:

In the spirit of permanence, do not feel the need to rush. Be open to changing your mind and your process based on new findings and understanding.
My (In Progress) Working Model

The scarcity imbued to an NFT has a realworld price: energy.2 Pipkin damns NFTs in part due to their cost of emissions. During my time working at Google, I learned that, like the critique of cryptocurrencies and their markets, Google measures its output in kilowatts. Since NFT energy cost is so high, it demands scarcity from the artist minting work. For Pipkin, that scarcity means abstaining from the technology altogether. For me, this is a question of habit. The dream of permanence is too elusive to walk away from. If NFTs have such a high realworld energy cost, then what expression of mine is worth that cost? Further, what digital files have I made that are worth immortalizing? Lastly, if permanence is the main concern, then selling a minted piece becomes secondary.
In parallel to this critique, the community rallying around NFTs is a community that studies form. My favorite pieces I have seen on various platforms have a purity to them.3 Where Trehan's Ecotherapy lacks concept it makes up in process. This is partly due to the platform description character limit and partly due to the difficulty in navigating applications and meta-systems to create an emotionally charged image. This simplicity reminds me of when I was learning how to use systems to generate images that resonated with me. The pursuit of new techniques and constant personal betterment continues to be central for anyone working in the creative economy. For me, the visual qualities of music are the forms that bring me to that beginner's mindset.
---
Click on the video to toggle the audio on and off. Minted on
Foundation
.
Visual Music: Mallow I
Audio: Mallow by Curling
Format: 1024x1024
Length: 720 Frames
Frames per second: 60
Bitrate: 16Mbps
Written entirely in JavaScript
Made during two live streams over the course of 9 hours.
1. Code Improvisation (
link
)
2. Visual Refinement (
link
)
Behavorial Desktop: Trails
Originally made in 2014 this software uses the mouse movement as input to generate meditative desktop backgrounds.
Tags: two.js, jonofyi, jonobr1, 2D, interactive
mimetype: application/x-directory on ipfs
Interactive webpage. Move mouse or tap to modify. Minted on
hic et nunc
.
Nostalgia for a Past Future
Originally made in 2009 this software presents a circuitous journey of one's memory. Each visitor generates a random seed making a unique animation for all.
Tags: bw, generative, henthousand, 2d
mimetype: application/x-directory on ipfs
Still Life Study 1
Format: 1024x1024
Length: 945 Frames
Frames per second: 30
Written entirely in JavaScript with Two.js
---
︎ Under Neon Lights, 2017

Under Neon Lights
is a psychological coming-of-age music video set to The Chemical Brothers track under the same name featuring St. Vincent. Using the immersive qualities of Virtual Reality, guide a young girl from her suburban home through the city as she navigates three distinct stages of her life. The core theme of both the song and the music video question traditional forms of happiness and success. Is this really all I want?
The song asks questions through its lyrics, dance meter, and dissonant texture to give the song a surreal presence. The music video presents picturebook stylized life, but allows the user to distort these forms to achieve the surreal. As the girl ages to teenager and then to adult both the song and the distortions build. In the final moments of the video our young girl, now an adult, faces all the material objects in her life. These objects, however, are stripped of context and meaning only giving rise to more questions.

Concept images of the female protagonist by Jonas Dinges
---
︎ Swinging, 2016
Swinging
(
link
) is an oil painting by Wassily Kandinsky made in 1925 and acquired by the Tate in 1979. The title "...conveys the painting's sense of dynamic movement, suggestive of the rhythms of modernity." In many ways Kandinsky, a pioneer of abstract painting, could relate to digital artists. His focus on geometric forms and colors to create compelling compositions is a pursuit of the atomic. These components are atomic building blocks across all of painting. However, when Kandinsky built with these units he was able to create scenes that are otherworldly.
Swinging
is a prime example, a painting liberated from "naturalistic appearances". Because most digital art is relegated to a screen, there is a similar otherworldly quality to digital work. Screens are not natural and as such nothing fully looks natural through them — they're flat, they emit light, and in most cases there are filters that alter their qualities.
---